These are so easy to make they use only 3 simple ingredients yet give you that American style thick luxury pancakes in just a matter of minutes... Plus they're gluten free and no refined sugar in sight!


Topping ideas: Savoury or Sweet

Depending on how you like your pancakes, these work beautifully as either savoury or sweet - here's a couple of my favourite examples.

Savoury - Crispy pancetta/ bacon and smashed avocado.

Top a couple of the pancakes with either bacon or cooked pancetta or parma ham - I love cooking the parma ham in the oven/air fryer for a few minutes to really crisp it up.
Top with a smashed avocado and dress with cold pressed organics extra virgin olive oil and salt and pepper.

Sweet - Nut butter, frozen blueberries and coconut.

This one is a real treat but not unhealthy as far as desserts go! Smear your favourite nut butter (maybe try our homemade nut butter recipe - its super easy!) on a couple of the pancakes. Top with frozen blueberries and sprinkle desiccated coconut on top and enjoy!

Feel free to explore with different toppings and please share your ideas and version of these pancakes with us and each other.
Ingredients
1 Medium banana
3 Medium free range eggs
1 tbsp Organic coconut flour


*Makes 6 thick pancakes

Plus, toppings of your choice!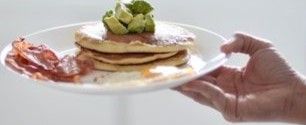 Method
Mix the 3 eggs, banana and coconut flour in a food blender for a few seconds until a smooth mixture.
Heat some coconut oil in a pan on a medium heat then pour the mixture into 4 to 6 'blobs' (depending on the size of your pan) and let then flatten down into thick discs.
After a few minutes 'flip' the pancakes carefully to cook till golden on both sides
Enjoy!

Jacko
FREE Resources
Start living a more 'Rooted Life' with help from our experts in our free resources.

Helping you connect to self, nature and others
Created with