Can apples really be anti-inflammatory?
Well, Dr Michael Ash in his research found two stewed apples per day can provide the same anti-inflammatory effect as 10-15g of steroids [1]. There are a few things in the apples such as polyphenols and pectin which is helpful – they help to build up good bacteria in the gut; important for loads of health reasons like boosting appropriate immune function, which regulates inflammation (at the core of all modern disease).
So we think the answer is yes!


Please try to use organic apples - they are plentiful in the UK from late August to October - you will often see them to take for free if you walk near the right gardens! Once you make the stewed apples, they can be frozen -in jars.
We personally love to serve these with ground/chopped nuts/seeds, like almonds, brazils, flax and a sprinkling of cinnamon and ground ginger for that extra anti-inflammatory punch!
Ingredients
1 tsp ginger
some people also prefer them sweeter, so add 1 or 2 dates or sultanas
Method
Wash the apples thoroughly because they are part of the dirty dozen and ideally choose organic apples as you'll be eating the skins (unless you peel them before chopping).
Chop the apples into small quadrants leaving the court to one side.
Place the chopped apples in a large saucepan with a small amount of water around 100-200ml depending on size of saucepan so the apples simmer slowly. (If adding dates/other dried fruit, then add them add this stage to also stew.)
As the apples start to soften reduce the heat and allow the apples to stew. Once apples completely softened take off the heat and leave to chill for a few minutes. Add the spices, if using.
Finally blend the apples, using a hand blender, before placing in glass containers or jars for storing in the fridge or freezer (long-term).

Enjoy!
Catherine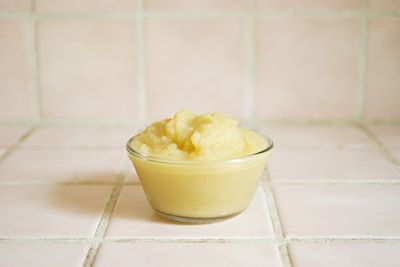 FREE Resources
Start living a more 'Rooted Life' with help from our experts in our free resources.

Helping you connect to self, nature and others
Created with